Let's Jam: UAE Parkour Scene Keeps Growing
---
Some of the UAE Parkour team during one of their 'Jams'
Parkour is a fitness craze born on the street which has made its way to the mainstream in recent years. Involving some seriously cool-looking stunts, the basic idea behind Parkour is to move as efficiently as possible from point A to point B by overcoming - rather than evading - physical obstacles. Think jumping, climbing, running, somersaulting and any other acrobatic means. But this fun and challenging activity is good for more than just providing awe-inspiring performances; it can also be a challenging workout and creative outlet!
In the UAE, the Parkour scene appeared on the radar around 2006 when a few Parkour enthusiasts connected over the internet and eventually started training together. From there, it grew to what is today known as the UAE Parkour team, directed by 18 year old Jordanian Iyad Al-Mrouj.
On how he discovered Parkour, Iyad says 'At the age of 16 I saw the movie B13 which had the hero doing parkour. I searched on the internet what that sport was and found out it was Parkour. I then found the UAE Parkour team.'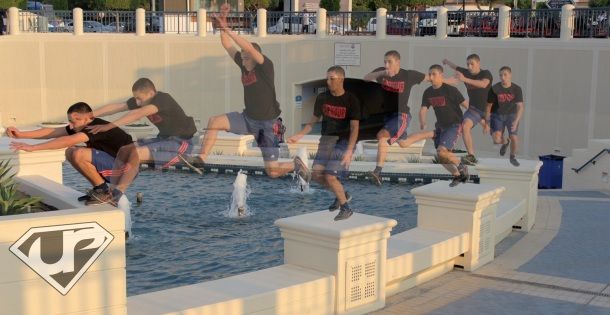 Parkour as it is known today originated in France and was popularized by a traceur named David Belle, and the movement slowly trickled into other countries. Iyad is enthusiastic about the local Parkour scene, saying: 'The parkour scene here is quite big compared to other GCC countries. However it is still a bit smaller than in other places like London and other European countries, but we are getting there.'
With community at the heart of Parkour, 'crews' practice together in 'jams' to inspire and challenge each other, and UAE Parkour is no different, with organized jams every Friday at various locations. Rather than structured sessions, jams are a way to meet other 'traceurs' and learn new things. 'The best way to describe jams is as gathering, everyone is welcome at any level. They are not classes per-say, as anyone can do whatever they want. There might be an instructor to lead the warm-up and conditioning. I would recommend people at any level to join, they can get help from more experienced athletes. It's a great way to make new friends and everyone is so nice', says Iyad.
However, for those not confident enough to hit up a Jam just yet, there are structured classes to learn and develop your own Parkour skills, held by qualified UAE Parkour instructors. These are held at Emirates International School in Dubai and Jump Sports Academies in Abu Dhabi. After a summer hiatus, they resume again in September with exact dates and timings to be announced shortly.
While Freerunning is considered one reinterpretation of Parkour, Iyad is quick to point out the differences, saying 'Parkour is about efficiency; it's about overcoming obstacles in the fastest and most fluid way. However, Freerunning is about overcoming obstacles while expressing yourself. You can include flips and stylish moves to Freerunning but not in Parkour, as flips are not that efficient.'
Before hitting the streets, a knowledge of Parkour basics is essential, as is starting slow and with a solid fitness background, so brush up on some basics and get to the streets so you can get to the streets!
A good place to start? The UAE Parkour team are holding a month-long workshop at Dubai Marina Mall from Sunday to Wednesdays at 6pm for kids and 7pm for adults. Drop them a line to find out more!
RELATED ARTICLES
---